Early Ragdoll Catteries 1969 – 1984
BLOSSOM TIME Cattery: Owned by Denny & Laura Dayton
RAGTIME Cattery: Owned by Blanche Herman
SHEYENNE Cattery: Owned by Elaine Fagerstrom
Cattery – none: Doris Michaux
---
Ragdoll Catteries 1969-1984
| Year | Cattery Name | Owner(s) | Location |
| --- | --- | --- | --- |
| 1969 | Blossom-time | Denny & Laura Dayton | California |
| 1973 | Ragtime | Blanche Herman | Indiana |
| 1973 | Ragamuffin | Ruby Spagnol | Ohio |
| 1973 | Middle Earth | John & Kit Pope | Washington |
| 1973 | Pa-Gar | Pat Garner | Virginia |
| 1975 | Wynwood | Gladys & David Allen | Missouri |
| 1975 | Tomahawk | Vern & Peggy Oliver | Arizona |
| 1976 | Sheyenne | Elaine Fagerstrom | California |
| 1976 | Tivoli | Ole & Barbara Henriksen | Washington |
| 1977 | Ragnarok | Dave & Georgann Chambers | California |
| 1978 | Snowflake/Caprillon | Dorthy Metcalf | Mass |
| 1979 | Tigerlily | Jean & Bruce Nelson | California |
| 1980 | Raggles | Glena Spaulding | Mass |
| 1981 | Ragmar | Susan Bugdin | New York |
| 1981 | Petil-Lu | Lulu Rowley | England |
| 1981 | Patriarca | Patricia Brownsell | England |
| 1981 | Axtell | Randy White | Texas |
| 1981 | Rag Land | Cindy Alldredge | Texas |
| 1981 | Morning Mist | Linda Williams | Maryland |
| 1981 | Rain Tree | Pat Heath | Oregon |
| 1982 | Glad Rags | Candance Allert | Texas |
| 1983 | Hoosier Dolls | Rita Sievern | Indiana |
| 1984 | Sugar Paw | Pat Rados | Illinois |
| 1984 | Dandenong | Rosemary Howarth | Washington |
---
BLOSSOM TIME Cattery: Owned by Denny & Laura Dayton
– written by Denny Dayton
It all started late in 1969 as there had been a short article in the Los Angeles Times about a new breed of cats, Ragdolls. Our interest grew and I was reluctant to see them as "I hated cats." The original developer of the Ragdolls convinced us these were to be the cats of the future.
Upon accepting the responsibility of becoming breeders, we first chose a cattery name and proceeded to register the name with all known cat associations. Living in a residential area, it was required that we apply for a license to do business.
We learned detailed record keeping was an absolute must, realizing there are ups and downs with animal breeding. A full time study of the individual habits of the cats was a situation turning into a never ending study. Our full cattery of eighteen cats kept us both busy, especially at meal time. Witnessing the first born kitten in the cattery made it all worthwhile. A large amount of money went for advertising, show fees, spay fees, and general Vet services.
Show Time! The height of excitement is when your first Ragdoll is shown. That was the beginning of years of showing, and always trying to move forward to gain recognition and on to championship status in all associations.
During all the years of breeding the Ragdolls, showing, being involved in forming a Club for the benefit of the breed, it was a very educational and wonderful journey for both of us.
After 13 years of breeding, and many more established breeders of Ragdolls, it was time for our retirement from the cattery. The rewards of satisfaction are knowing we helped establish the legitimacy of the Ragdolls in the cat fancy.
---
RAGTIME Cattery: Owned by Blanche Herman
– written by Blanche Herman in 1987
In 1972 I attended my first cat show in Illinois, entering my old-type applehead Siamese, Sam, and at that time saw an issue of Cats Magazine advertising Ragdolls, photographed as a large, limp cat. No one at the show had ever seen a Ragdoll, or knew anything about them. Not long after that, I flew to California and purchased a breeding pair from Ann Baker, the creator of the breed.
My Siamese was very jealous of the Ragdolls and it was two weeks before he would even investigate or go near them, or let me touch him. Later I purchased 4 more Ragdolls from Ann. I was a Ragdoll breeder from 1973 through 1984, starting with a blue mitted male (Bam Bam) and a seal mitted female (Pebbles), all while holding a full time job until 1982, when I retired as a Secretary for Northern Indiana Public Service company where I had worked for 30 years.
When I first started breeding, there were no vaccines for rhino, calici, or clamaydia, and I had virtually no help or advise in breeding, but surprising enough, I had very few losses. At that time, Ragdolls were only accepted in one (1) association for competition showing, NCFA, a small association which is now defunct. So I exhibited only in ACFA, CFF, and in CFA. Even at this time, Ragdolls were very popular and much in demand.
In the beginning, my cattery (Ragtime) was in a large finished basement room with a large Southern window. Later, the cattery was moved to the entire second floor in my home with full windows on all four sides and a separate entrance to the outside, as well as my own entrance on the inside. My mother made all the curtains and window shades for the cattery in bright colors.
In January, 1979, I entered Susie a seal mitted whole Ragdoll at the Crown Association show in Yuma, Arizona.  She competed against 8 whole Ragdolls and won Best Whole Ragdoll; she was awarded a beautiful trophy. At that particular time of year it was very cold with heavy snowfalls, so I was lucky to get to Yuma and back to attend that show. I remember that my mother was very worried about me, and if I was going to be able to get home.
I was an early member of the Ragdoll Fanciers Club, and served four years as Secretary-Treasurer and I was the Ragdoll Breed Chairperson of ACFA for four years. During those years I met so many nice people. Since my retirement from breeding, I share my townhouse with Sam my Siamese who is 17 years old and five altered Ragdolls. I now enjoy reading and sewing (crewel and cross-stitch).
---
SHEYENNE Cattery: Owned by Elaine Fagerstrom
– written by Wain Pearce (2012), from articles written by Elaine Fagerstrom in the Ragdoll Newsletters 1975-87
Elaine was one of the very first Ragdoll breeders. Ragdolls entered Elaine's life in October 1974 when she saw some Blossom-Time entries at a cat show in Pasadena, California. Exactly two years later a lilac mitted Ragdoll named Blossom-Time Muffie came to make her home with Elaine. Together they appeared at many cat shows representing the Ragdoll breed and winning numerous awards. Elaine soon realized her dream of owning her own cattery by buying a breeding pair from Denny & Laura Dayton, and starting her own cattery named Sheyenne.
Elaine was born and raised in Valley City North Dakota. She moved to California in 1964 where lived in Los Angeles and South Pasadena. She loved the outdoors, horseback-riding, skiing, bicycling, and especially gardening.
Elaine worked as an international officer in the department of Security National Bank, the 10th largest bank in the nation at that time. She was employed at the bank for 14 years with the primary responsibility of matching up foreign suppliers with a U.S. importer and vice-a-versa.
Elaine named her cattery after the Sheyenne River which winds through her home town of Valley City North Dakota. She soon became a major player in the development of the new Ragdoll breed. In 1977, she became the Secretary-Treasurer of the Ragdoll Society filling out the term of Ruby Spagnol who had recently resigned. In 1978, the Ragdoll Society decided to change its name to Ragdoll Fanciers Club (RFC) and new officers and a Board of Directors were elected. Elaine chose to run for the Board of Directors and was elected to the Board for a two-year term.
In 1982, Elaine decided to change her life by moving back to her home town of Valley City, North Dakota. This also resulted in a change of careers for her as she decided to buy a drive-in and run it herself. At the time of her move Elaine owned 15 Ragdolls. She decided to ship 11 of them back to North Dakota by air and bring the other 4 with her to keep her company as she drove back home.
In 1980, RFC chose to change the club's structure and replace the office of President with the title of Chairman of the Board. In 1983, Elaine Fagerstrom was elected as the new Chairman of the Board and served through 1987. After retiring from breeding, Elaine was elected as a Life Time Member of RFC. As an early Ragdoll owner & breeder, her contributions to the development of the Ragdoll breed were enormous. She was heavily involved in the writing of the Ragdoll standard, as well as the formulation of both the Ragdoll Society and the Ragdoll Fanciers Club.
---
CATTERY- None : Doris Michaux
– written by Wain Pearce (2012) from articles in the early Ragdoll newsletters. 1975-82
Picture below : Denny Dayton and Doris Michaux
at the CFA presentation in Philadelphia 1981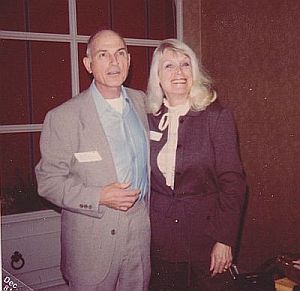 A lady who would play a major role during the infancy of the Ragdoll breed was Doris Michaux. She was never a breeder, but owned 3 Ragdolls. She played an important part in the formulation of the Ragdoll into a recognized breed. In the early days it was not necessary to be a breeder in order to be a member of the newly formed Ragdoll Society. Non-breeders could even hold office within the Society.
From the very beginning of her relationship with the Ragdolls, she volunteered to do whatever was necessary to advance the Ragdoll breed. Over the years, her contributions to the Ragdoll community were enormous. She was willing to serve in whatever capacity was needed. In 1977 she became the new Editor of the Ragdoll Society Newsletter and named it the "Rag". She would remain the Editor until 1982
In 1978 the Ragdoll Society was accepted into the Cat Fanciers Federation (CFF) as a breed club. Affiliation with CFF was made because it was the first cat association to recognize the Ragdolls in all three patterns, and required that a breed be represented by a breed club. As a result of this, the name of the Ragdoll Society was changed to Ragdoll Fanciers club (RFC). Doris was elected to serve as the Secretary-treasurer of the newly named organization. In 1981 Denny Dayton the Chairman of the Board of RFC decided to retire as chairman, so an election was held and Doris Michaux was elected as the new Chairman of the Board. She served as Chairman through 1982 and, in recognition of her many contributions to the RFC and the Ragdoll breed, was elected a Life Time member of the RFC.
Among her many other contributions was her help in formulation of both the Ragdoll Society and the Ragdoll Fanciers Club. She was involved in the writing of the Constitution and By-laws of these organizations. She worked hard with Denny Dayton, Blanche Herman, and others to get the Ragdolls accepted in the various cat associations of that day. She went with Denny to Philadelphia in 1981 to make the first presentation of the Ragdolls to CFA for their acceptance into that association. While they were not successful, they laid a foundation that others would build upon. She was very artistic and created her own drawings for the "Rag". Some of you may have seen or have some of the beautiful drawings of cat trees that she created in color on parchment, showing the origins of the Ragdoll breed. She designed business cards with drawings of Ragdolls for many breeders.
She was a wonderful lady who left a large footprint upon the Ragdoll Breed.